Updates and News
9-1-2004
Hello, Everyone
I'm very happy to announce the completion and premiere of the third Robota Teaser! Congratulations to all. Click here to view it on the Robota animation page. Special thanks to Doug Werner at Apple and Pam Statz for making this possible. And many, many heartfelt thanks to the great team of friends and artists who worked many long hours to make this teaser possible. Pete Billington, one of the two Visual Effects Supervisors for the teaser, spoke at Siggraph this year to talk about the work.
In addition, Robota Teaser 4 is near completion from my friends at Attitude Studio in France. Look for that announcement soon.
In other news, I've finally wrapped my work on 'The Polar Express' after 2 ½ years. It's been an incredible experience for myself and my team and I sincerely hope you'll enjoy the film when it's released later this year. Chronicle Books will be publishing the 'Art of the Polar Express' so look for that this fall. It'll give a sneak peek at all the work that went into making this innovative film possible.
Furthermore, Chronicle Books is also publishing my second illustrated book 'Fig and the Stone King.' Below is a small sneak peek at one of the paintings. Look for the book sometime next year in your local bookstores.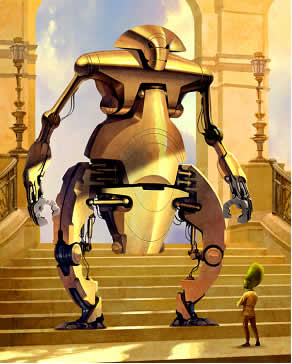 On the Robota video/computer game front, we are in full production at Sony. The team at Sony Pictures Imageworks and myself are busy at work turning the story and art into a compelling game experience. Stay tuned for more updates on this in the coming months including more teaser films.
Cheers,
Doug
9-1-2004

Previous Update